In the music, radio, television and film industries, obtaining quality sound recordings is very important. For this reason, it is frequently used by professional sound recording studios, musicians, sound engineers, producers and other professionals. Rental sound recording studios offer an ideal and economical solution to meet the sound recording needs of these professionals. In this article, we will provide detailed information about rental sound recording studios and provide useful information for those who want to get this service.
Places where voice-over recordings, sound production and voice-over management are done professionally are called sound recording studios. Sound recording studios are professional spaces designed as sound recording and sound post production facilities, and purpose-built to meet these needs. Professional sound recording studios will give the best advice and guide voice directors works with. Two other factors are as important as choosing the right voice for your brand, story, and the text you have prepared. a professional recording studio is your work with.
When choosing between rental sound recording studios, you should be careful about having a voice-over director. The voice director, who controls the microphones, volume levels and sound outputs, provides the best sound quality by guiding the accent errors, correct pronunciation and intonation.
Sound Recording Studio Equipment: Equipment for Rental Sound Recording Studios
Although different technologies are used in dubbing studios, all sound recording studios are designed for the same purpose and offer this service. Sound recording studios should be designed with technology and technical infrastructure to meet all needs.
Sound-proof recording room, microphone, vocal microphone for vocal recordings, headphones for listening to the sound, microphone stand to keep the microphone stable for equal sound distribution, shock connection to help reduce unwanted vibrations and noises, pop filters to help spread sibilant sounds, and Includes sound recorder. Let's explain all this point by point:
microphones: Microphones, one of the most important components of sound recording, can be found in studios with different types. Condenser, dynamic, ribbon and tube microphones can meet different recording needs because they have different sound characteristics.
Sound cards: Unlike sound cards used for sound recording from computers, sound cards used in studios provide much higher quality sound recording. These cards also stand out with their ability to record multiple channels simultaneously, especially when recording with multiple microphones.
Monitor speakers: Monitor speakers used during sound recording ensure that the recorded sound can be listened to realistically. These speakers allow you to hear the details and dynamics of the sound clearly.
mixing tables: When multiple sources need to be recorded simultaneously and then mixed, mixers are used to do this. Because mixers have many different input sources, they can manage different microphones, instruments, and other sources simultaneously.
Headphones: Headphones are used when listening to sounds recorded in studios. Headphones allow you to hear the details and dynamics of the recorded sound more clearly.
Sound insulation: Special sound insulation is applied in the studios to minimize the sounds coming from outside. This isolation ensures that the recorded sound is clearer and of higher quality.
Sound recording studio equipment is very important for obtaining high quality sound recordings. The quality and harmony of these equipments has a direct impact on the quality of the recorded sound. Having a voice over director is also very important for choosing a sound recording studio. More information on this Vocabulary Glossary You can access our content.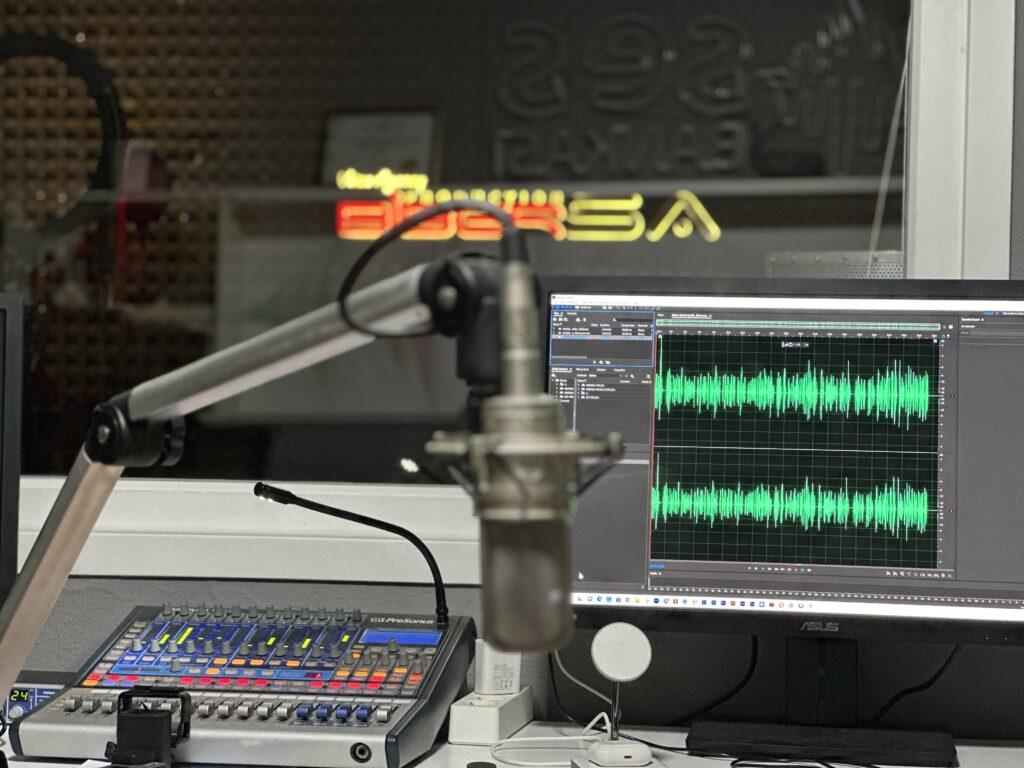 Rental Sound Recording Studios Prices
Voice-over studios can be rented hourly, daily and long-term. Studio rental prices vary according to hourly, daily or long-term rentals. There is a price difference between studio rentals with a voice-over director and studios without a voice-over director. In Turkey, the cost of renting a sound recording studio with a voice-over director is a situation that changes very often. Generally, studios for rent are given on an hourly basis.
Rental sound recording studio prices vary between 1.xxx and 5.xxx hourly, depending on the factors listed below. The most important factors affecting the prices of rental sound recording studios are:
Studio Features: Prices may vary depending on the studio's capabilities. For example, you may need extra features such as high-quality microphones, noise isolation and acoustic adjustments for better sound quality. The presence of such features can affect the price.
Duration: Rental duration can also have a significant impact on prices. Renting the studio for a short period of time may be cheaper, while renting for longer periods may result in higher prices.
Location: The location of the studios is also a factor that affects prices. In particular, studios located in big cities may have higher prices than studios in smaller settlements.
Rivalry: Because there are so many options on the market, there is competition among rental sound recording studios. Therefore, prices may vary depending on the competition.
The prices of rental sound recording studios may vary according to the factors mentioned above. However, in general, studio rental fees for an hour can vary between 1.xxx TL and 5.xxx TL. Prices may increase as the rental period and the features of the studio change. That's why it's important to do research to choose the studio that best suits your needs.
BiberSA Production Voice Over and Dubbing Agency Sound Recording Studios
As BiberSA Production Voice Over and Dubbing Agency, we make high-quality recordings with our state-of-the-art equipment. We offer the quality service you need for all your voice-over and dubbing projects in our studios specially designed for voice-over recording. You can contact us for hourly, daily and long-term rental of our specially configured high quality sound recording studios.